Shift Marketing Studio acquired by A5 Capital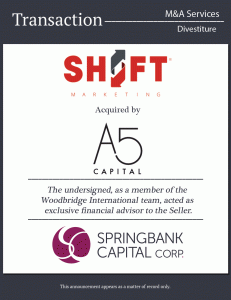 We are pleased to announce the sale of Shift Marketing Studio, Inc., a digital marketing company serving automotive dealerships across Canada, to A5 Capital, an investment firm.
Springbank Capital, as a member of the Woodbridge International team, acted as the exclusive financial advisor to Shift Marketing Studio, Inc.
About Shift Marketing Studio, Inc.:
Shift Marketing Studio, Inc. is a digital marketing company primarily serving automotive dealerships. The company designs and deploys loyalty marketing campaigns focused on existing customer loyalty and new customer conquest. With over 330 active clients across Canada, the company is a leader in its niche. Shift Marketing was founded in May 2010.
About A5 Capital:
A5 Capital is an investment firm focused on the acquisition of and investment in small to mid-sized scalable businesses. A5 provides hands-on operating and growth guidance to its portfolio companies. A5 was founded in September 2014 and is based out of Pickering, Ontario.
About Springbank Capital Corp:
Springbank brings investment banking to mid-market businesses in Canada. It offers one-on-one, customized services, an extensive and proven track record of completed deals, and an international reach – all underpinned by an understanding of and passion for what it takes to succeed in the Canadian mid-market. Springbank's President, Jennifer Chasson, is also a Partner with Zeifmans LLP, a Toronto-based accounting practice that combines the capabilities and world reach of a multinational, with the efficiency and service of an independent practice.