Hoskin Scientific acquired by Supply Chain Equity Parnters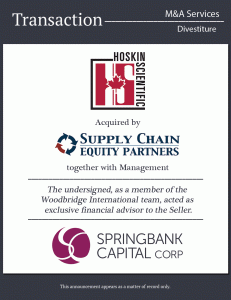 We are pleased to announce the sale of our client Hoskin Scientific Ltd., a leading supplier of testing and monitoring instrumentation across Canada, to Supply Chain Equity Partners, a private equity firm specializing in the distribution industry.
Springbank Capital, as a member of the Woodbridge International, acted as the exclusive financial advisor to Hoskin Scientific.
About Hoskin Scientific Ltd.: 
Headquartered in British Columbia, Hoskin Scientific Ltd., supplies public and commercial markets with a comprehensive range of sophisticated environmental testing, monitoring, analysis, and related products. In business since 1948, Hoskin operates across Canada through its four offices and is the exclusive Canadian distributor for many of the product lines it carries.
About Supply Chain Equity Partners:
Supply Chain Equity Partners, headquartered in Tampa, Florida, is a private equity firm focused exclusively on the distribution industry. The firm is founded and backed by distribution industry veterans and provides operating, strategic, and growth planning guidance to its portfolio companies.
About Springbank Capital Corp:
Springbank brings investment banking to mid-market businesses in Canada. It offers one-on-one, customized services, an extensive and proven track record of completed deals, and an international reach – all underpinned by an understanding of and passion for what it takes to succeed in the Canadian mid-market. Springbank's President, Jennifer Chasson, is also a Partner with Zeifmans LLP, a Toronto-based accounting practice that combines the capabilities and world reach of a multinational, with the efficiency and service of an independent practice.