A private residential care home acquired by Cairn Merchant Partners LP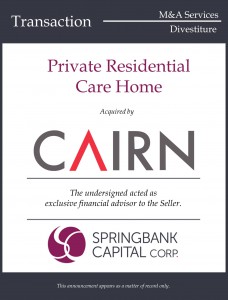 We are pleased to announce the sale of our client, a private residential care home for persons with dementia and Alzheimer's disease to Cairn Merchant Partners LP, an independent private investment firm based in Canada.
Springbank Capital Corp. ("Springbank") acted as the exclusive financial advisor to the private residential care home.
About Cairn Merchant Partners LP
Cairn Merchant Partners LP ("Cairn") is an independent firm that invests in private Canadian companies and offers advisory services to both public and private companies. Making equity investments in lower mid-market firms headquartered in Canada, Cairn works with management teams and business owners, to provide capital and solutions tailored to meet the needs of all stakeholders. Cairn provides an alternative option to traditional investment banking advisory services, with a goal to help ambitious companies unlock their full potential.
About Springbank Capital Corp.:
Springbank brings investment banking to mid-market businesses in Canada. It offers one-on-one, customized services, an extensive and proven track record of completed deals, and an international reach – all underpinned by an understanding of and passion for what it takes to succeed in the Canadian mid-market. Springbank's President, Jennifer Chasson, is also a Partner with Zeifmans LLP, a Toronto-based accounting practice that combines the capabilities and world reach of a multinational, with the efficiency and service of an independent practice.