Leaside Animal Clinic acquired by VetStrategy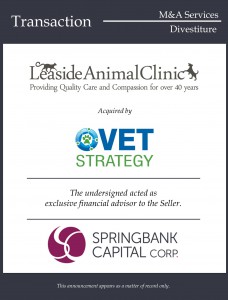 We are pleased to announce the sale of our client Leaside Animal Clinic, a dog and cat veterinarian clinic, based in Toronto, Canada to VetStrategy, Canada's leading and largest operator of veterinary clinics.
Springbank Capital Corp. ("Springbank") acted as the exclusive financial advisor to Leaside Animal Clinic.
About Leaside Animal Clinic:
Leaside Animal Clinic, is a veterinarian clinic, based in Toronto, Canada. Over the past 40+ years, Leaside Animal Clinic has been providing quality and compassionate care for dogs and cats in their community. They provide a variety of animal medical services, such as, anesthesia and patient monitoring, laboratory and diagnostic procedures, nutritional counseling, preventive services, surgical procedures, pharmacy, behavioral counseling, microchip pet identification, and boarding.
About VetStrategy:
VetStrategy manages veterinary clinics and hospitals across Canada, providing exit strategies for Canadian practice owners. They are the only 100% Canadian operated organization of its kind with coast to coast presence. VetStrategy combines professional management experience and veterinary expertise, allowing veterinarians in their clinics to focus completely on caring for people's pets. Working with veterinarian partners, they acquire ownership of animal hospitals then help to manage these practices. VetStrategy recognizes that the successes of the practices they acquire is based on the philosophy and reputation of the practices they acquire in their community.
About Springbank Capital Corp.:
Springbank brings investment banking to mid-market businesses in Canada. It offers one-on-one, customized services, an extensive and proven track record of completed deals, and an international reach – all underpinned by an understanding of and passion for what it takes to succeed in the Canadian mid-market. Springbank's President, Jennifer Chasson, is also a Partner with Zeifmans LLP, a Toronto-based accounting practice that combines the capabilities and world reach of a multinational, with the efficiency and service of an independent practice.
For more information regarding our services, please feel free to contact me at your earliest convenience.