A janitorial company acquired by Golden Spruce Capital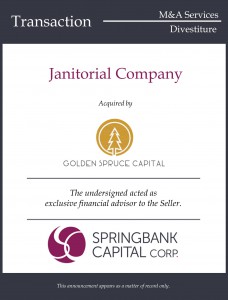 We are pleased to announce the sale of our client, a janitorial company based in Toronto, Canada, to Golden Spruce Capital Inc. ("GSC"), a Toronto-based private equity firm.
Springbank Capital Corp. ("Springbank") acted as the exclusive financial advisor to the janitorial company.
About Golden Spruce Capital Inc.:
GSC is a Toronto-based pool of entrepreneurial capital, seeking to acquire best-in-class small and medium sized businesses across North America.  GSC works with owner-operated business owners who are looking to retire, or de-risk their asset base, through facilitating an opportunity to monetize their business, while maintaining the legacy of their company. GSC is supported by a storied group of investors, with experience in the Healthcare, Manufacturing, Technology, Retail, Oil Field Services, Food and Beverage and Logistics industries.
About Springbank Capital Corp.:
Springbank brings investment banking to mid-market businesses in Canada. It offers one-on-one, customized services, an extensive and proven track record of completed deals, and an international reach – all underpinned by an understanding of and passion for what it takes to succeed in the Canadian mid-market. Springbank's President, Jennifer Chasson, is also a Partner with Zeifmans LLP, a Toronto-based accounting practice that combines the capabilities and world reach of a multinational, with the efficiency and service of an independent practice.