Consolidated Bottle Corporation acquired by Berlin Packaging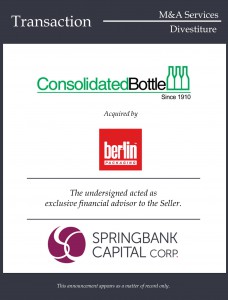 We are pleased to announce the sale of our client Consolidated Bottle Corporation ("Consolidated Bottle"), a bottle packaging manufacturing supplier with offices in Toronto and Montreal, Canada to Berlin Packaging, the world's largest hybrid packaging supplier.
Springbank Capital Corp. ("Springbank") acted as the exclusive financial advisor to Consolidated Bottle.
About Consolidated Bottle Corporation:
Established by the Korolnek family in 1910, Consolidated Bottle has 110+ years of experience supplying innovative plastic, glass and metal containers and closures across various industries, including personal care, pharmaceutical, cannabis, food, beverage and industrial. With facilitates both in Toronto and Montreal, Canada they bring a unique service-oriented approach to their customer base including innovation & design, global sourcing, quality assurance, inventory control, logistics management, and service excellence.
About Berlin Packaging:
Berlin Packaging is the world's largest Hybrid Packaging Supplier® of glass, plastic, and metal containers and closures. The company supplies billions of items annually along with package design, financing, consulting, warehousing, and logistics services for customers across all industries. Berlin Packaging brings together the best of manufacturing, distribution, and income-adding service providers. Its mission is to increase the net income of its customers through packaging products and services.
About Springbank Capital Corp.:
Springbank brings investment banking to mid-market businesses in Canada. It offers one-on-one, customized services, an extensive and proven track record of completed deals, and an international reach – all underpinned by an understanding of and passion for what it takes to succeed in the Canadian mid-market. Springbank's President, Jennifer Chasson, is also a Partner with Zeifmans LLP, a Toronto-based accounting practice that combines the capabilities and world reach of a multinational, with the efficiency and service of an independent practice.